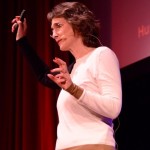 I love that quote from Rainer Maria Rilke.  Every spring, as new life blooms, I think about how all cultures honor rebirth and regeneration.  Christians celebrate Easter about resurrection and new hope; Jews celebrate Passover about liberation and renewal; Muslims celebrate Mawlid al-Nabi honoring the Prophet Muhammad's birth; Buddhists celebrate Purnima, the birth of Budha; Hindus celebrate Baisakhi, the start of their new year.  This spring what are you doing that is a new blossoming for you?  I rejoice in the new experiences life continues to offer me.  I gave a TEDx talk in Geneva "Adversaries to Allies" and you can click to watch it now.
My guests on a Trust Across America program on Voice America I hosted that you can hear here were four brilliant pioneers in the field of how to create, measure and protect trust on the Internet: Drummond Reed and Marc Coluccio, co-founders, Connect.Me; Xin Chung, CEO, TrustCloud; and James Varga, CEO, miiCard.
With Irene Natividad and Corporate Women Directors International (CWDI) I opened the stock market in Zurich at the SIX Swiss Exchange that you can see here and then the group of 75 discussed the status of women on boards globally.  It was International Women's Day with the theme "Gender Agenda: Gaining Momentum."
The website for my company beCause Global Consulting was revitalized: check it out here.
But most exciting for me is that our two oldest grandchildren will graduate from college in May and our youngest one from middle school.  And we are preparing to celebrate these special occasions with them now that my beloved has regained full health and strength.
Each day life moves on and with all its joys and sorrows it is, indeed, an amazing blessing! Please share your stories about what life has brought to you and you have brought to life!