The Saïd Business School at Oxford University hosted a dynamic Womensphere Summit, "Creating the Future ." 300 participants from around the world joined in dialogue during panel discussions headed by 30 distinguished speakers. I was particularly touched to receive the Inspiration Award recognizing what for me always has come natural: providing support and encouragement to other women and especially for younger women to step into their full authority as leaders. Through the day we discussed many dimensions of global opportunities for women's leadership.
Analisa Balares, CEO of Womensphere, said, "At Womensphere, we believe that by coming together, and by exchanging insight, success models and best practice cases, we can collectively create a much better future, advance women's leadership in corporations and society, and build a more sustainable world. Through our Summit, we convened industry leaders and thought leaders to share insight and discuss important issues with other leaders in business, media, technology, non-profits and academia. In addition, to inspire society and shine the light on outstanding women, we presented the Womensphere Awards to some of the most influential and accomplished women leaders whose life work and professional achievement have resulted in positive and transformational impact on society and the world."
I was delighted to share the Inspiration Award with a truly extraordinary woman, Pinky Lilani, Founder of Women of The Future Awards, Asian Women of Achievement Awards, The Ambassadors Programme, The Global Empowerment Award and Women's Interfaith Network. Not only has she launched such inspiring programs but her warmth and humor are a very special joy to experience! Pinky and I were among quite a remarkable group of other award recipients.
Womensphere Global Leadership Awards were given to:
Baroness Mary Goudie – Senior Member, House of Lords
Arianna Huffington – Founder, Huffington Post; President, AOL Huffington Media Group
Dominique Reiniche– President, Coca Cola Europe
Melanne Verveer – Ambassador for Global Women's Issues, United States Government
Womensphere Pan-European Leadership Awards were given to:
Amanda Mackenzie – Chief Marketing & Communications Officer, Aviva
Helena Morrissey – CEO, Newton Investment Management
Ruby McGregor-Smith – CEO, Mitie plc
Dame Helen Alexander – Deputy Chairman, Council of British Industries
IMD President Dominique Turpin said, "It's an honor to have Nadine Hack, an IMD thought leader and the institution's first female Executive-in-Residence, recognized by Womensphere. Global companies are increasingly placing emphasis on diversity and women. In working closely with businesses, IMD has seen many examples where diversity has led to better discussion and increased bottom lines. Organizations like Womensphere will continue to have a role to play in shaping tomorrow's world." IMD carried the story on their website.
Other honorees shared their enthusiasm. Amanda Mackenzie, Chief Marketing and Communications Officer of Aviva and a member of the Lord Davies Commission, said, "The Womensphere organization is quite extraordinary for its reach, influence and purpose. They are huge supporters of Lord Davies and his steering committee and their work looking at getting more women on Boards. They also appreciate companies such as Aviva who create an environment where balanced leadership can thrive. I am therefore delighted to receive their award which recognizes that work.
Helena Morrissey, CEO of Newton Investment Management, said, "I am delighted to be participating in this visionary event, which brings together so many women and men working to create a better future for us all. The topics being covered at the Womensphere Summit link very clearly to the aims of the 30% Club, which is a group of 30 UK Chairmen working towards a voluntary, aspirational target of 30% women on their boards by 2015. These Chairmen 'get it' and want to achieve sustainable, meaningful and faster change without a mandatory quota – they recognize that modern successful businesses need diversity of perspective throughout all levels of their organizations."
Below these few photos is a listing of all the panel topics and discussion leaders. See more photos from Womensphere here.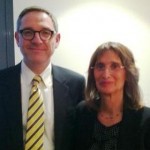 The Context for Leadership: Globalization, Talent and Opportunities for Women
Cynthia Sweeney Barnes – Managing Director, Global Head of Sovereigns & Supranationals, HSBC AM; Heiner Thorborg – CEO, Heiner Thorborg Executive Search and Founder & CEO, Generation CEO; Robert Stefanowski – Chairman and Managing Partner, Asia & the Americas, 3i; Valerie Germain – Partner, Heidrick & Struggles; Valerie Keller – CEO, Veritas (Womensphere Summit Co-Host)
Creating the Future: Organizational Leadership & Building Innovative Enterprises
Caroline Webb – Partner and Dean, Centered Leadership Project, McKinsey & Company (Womensphere Global Advisory Council & Summit Co-Host); Christine Lloyd – Founder, Alluvia and Former Global Director of Human Resources, UNICEF; Kim Blackburn-Bowen – Executive Producer, Ivy Road Entertainment; Monica Beltrametti – Vice President, Xerox Innovation Group; Director, Xerox Research Centre Europe; Monica Mandelli – Managing Director, Head of Strategic Relationship Management, Investment Banking and Co-Head, Firmwide Women's Network, Goldman Sachs (Womensphere Global Advisory Council)
Creating the Future: Advancing Women's Leadership in Corporations and Society
Amanda Mackenzie – Chief Marketing & Communications Officer, Aviva; Caroline Webb – Partner and Dean, Centered Leadership Project, McKinsey & Company (Womensphere Global Advisory Council & Summit Co-Host); Monica Mandelli – Managing Director, Head of Strategic Relationship Management, Investment Banking and Co-Head, Firmwide Women's Network, Goldman Sachs (Womensphere Global Advisory Council); Helena Morrissey – CEO, Newton Investment Management; Patricia David – Global Head of Diversity, JPMorgan Chase; Ruby McGregor-Smith – CEO, MITIE Group PLC; Sue O'Brien – CEO, Norman Broadbent UK
Creating the Future: Advancement in Science & Innovation Leadership in Enterprises
Debra Walton – Global Head, Specialist Sales, Thomson Reuters; Lee Epting – Director of Content Services, Vodafone; Dr. Maud Reiter – PhD, University of Oxford (Womensphere Global Advisory Council & Summit Co-Host); Monisha Saldanha – Head of Online, Jamie Oliver; Phil Smith – CEO, Cisco UK & Ireland
Creating the Future: Building Networks, Communities, and Cultivating Women's Leadership
Caroline Williams – Executive Education, Saïd Business School; Womensphere Summit Co-Host ; Marijo Bos – President, European Professional Women's Network; April Gow – Partner, Knighton White; Chair, Patrons, Asia House; Nadine B Hack – President & CEO, beCause Global Consulting, Inc and Executive-in-Residence, IMD Business School (Womensphere Inspiration Honoree); Pinky Lilani – Founder & CEO, Spice Magic amd Founder, Women of the Future Awards (Womensphere Inspiration Honoree)
Creating the Future: Building Sustainable Enterprises & a Sustainable Society
Baroness Mary Goudie – Senior Member, House of Lords, UK Parliament (Womensphere Pan-European Honoree); Cortney McDermott – Vice President, Sustainability Partners EMEA; Kate Gross – CEO, Africa Governance Initiative; Lila Preston –Partner, Generation Investment Management; Sonia Medina – COO & Partner, Africa Renewables (Womensphere Global Advisory Council & Summit Co-Host)