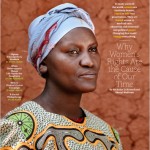 Women and girls are the key to sustainable development and have the capacity to resolve myriad crisis that plague our world.  I applaud the many insightful articles in today's The New York Times Magazine with the cover "Why Women's Rights Are the Cause of Our Time" (emphasis my own).  I have been an advocate of the perspective highlighted in these pieces and I encourage you to read all of them.  As Nicholas Kristof and Sheryl WuDunn wrote in their 21st century manifesto, there is growing recognition among leaders from all sectors – public and private – that supporting women and girls throughout the world is the solution for many of the world's problems.  As Mark Landler wrote in his piece on Secretary of State Hillary Clinton, her appointment of irrepressibly capable (my descriptive) Melanne Verveer as ambassador at-large for global women's issues is central to her agenda of promoting women's empowerment internationally.  Dexter Filkins wrote about the challenges of giving to women in certain regions like Taliban-controlled areas of Afghanistan.  And Tina Rosenberg wrote about development initiatives often increasing discrimination against girls in countries like India and China.  But, as Lisa Belkin wrote in her piece on women and philanthropy, women's financial support of other women represents change of a dramatic magnitude.  Having worked with Helen and Swanee Hunt, The Woman's Funding Network and an extraordinary group of women to launch Women Moving Millions, we sensed and then decided to power forward a historic tipping point.  We knew we would exceed the goals we set and we are part of a global movement pushing to achieve even more.
Of the 1.1 billion people globally who live in extreme poverty and suffer chronic hunger, the great majority are women and girls.  Though the face of philanthropy has changed with nearly half of all the foundation CEOs and 70% of program officers being women, less than ten percent of overall funding is aimed at programs that directly impact women and girls.  Before the Ms. Foundation was created close to four decades ago, this figure was less than three percent.  But, everything is shifting fast and we need to keep our hands on the plow, as the economic strength of women is growing: just read some of the facts and figures from the Women's Philanthropy Institute.  And, if that doesn't blow you away, check out The Girl Effect.
Other academic research and measurable results from field work show that, as former UN Secretary-General Kofi Annan has said, "When women are fully involved, the benefits can be seen immediately: families are healthier; they are better fed; their income, savings and reinvestments go up.  And what is true for families is true for communities, and eventually, of whole countries."  Liberia President Ellen Johnson-Sirleaf, the first woman head of state on the African continent, within the first ten months of her presidency improved economic development, reduced corruption and increased productivity in country her by over 30%.   She recently hosted an International Colloquium on Women's Empowerment, Leadership Development, Peace and Security in Monrovia (see pictures and read about it by clicking on my March 09 archive).
Nobel Peace Laureate Mohammed Younis understood this when he created the initial groundwork for the Grameen Bank in 1976 with the first of their core values in providing micro-credit loans being, "priority for the poorest, primarily women, through effective targeting in recruitment and promotion of self-empowerment…"  Also why another of the pioneers, Trickle Up founded in 1979 with the mission to help the lowest income people worldwide take the first steps out of poverty with seed funding for microenterprise, also focuses on women.  Both organizations, each of which has a 97% non-default rate on their loans, have found that women take the greatest responsibility for the welfare of their local communities and often move on to work on behalf of their nations. We know the famous ones like Wangari Maathai, another Nobel Peace Laureate, but there are hundreds of thousands of such enterprising women globally.
UNIFEM and the UN Population Fund addresses this in one of their annual women and gender inequality reports, which opens with "The empowerment and autonomy of women, and the improvement of their political, social, economic and health status…is essential for achieving sustainable development."  Their research also underscores the reasons why more women than men live in poverty – and that this disparity has increased over the past decade.  The World Food Program also says women are the first solution to the myriad issues problems of poverty.  Those who live in a state of chronic lack of the basic nutrition required to sustain life – disproportionally women and girls – and face problems of food security, lack of potable water, sanitation, health and education are more than the combined populations of the US, Canada, Europe and Japan.  Two billion people – again, disproportionally women and girls – live with "hidden hunger" and are missing vital micro-nutrients that impede mental and physical development.
More and more development organizations – local, national and international – are recognizing that these problems are inextricably interrelated with the severe subjugation of women and girls, laws that stymie if not totally block their access to capital, property and inheritance rights, as well as the daily violence they face.  It is not surprising that women's foundations were the first to recognize these issues domestically and internationally.  Since the Ms. Foundation was formed 37 years ago, local and state women's foundations empowering women and girls have formed throughout the world.  Then coalitions of such groups began to see that working together increased their effectiveness.   In 1985 the Women's Funding Network was created and in 1987 the Global Fund for Women.  Those in the business sector also have an ever-expanding awareness that women are critical for success.  Early pioneers, like Catalyst formed in 1962, have spurred myriad other business initiatives to promote women.
So, women philanthropists – and men too – who were drawn to this post, when you think about the most strategic use of your philanthropic dollars, direct them towards women and girls.  And don't think that this is just a feminist stand, although I personally think that is an excellent point of view, but do so because of the truly significant fact that funding women and girls is the key to sustainable development and the resolution of myriad problems that plague our world, including the prevalence of hunger and disease, the lack of education and economic opportunities, the tragedies of war and its many devastating consequence.  Women, girls and philanthropy: women and girls as donors and decision makers, women and girl beneficiaries who, as empowered individuals, can make the strategic decisions with their financial resources to improve conditions for all women, girls, men and boys; now that's something to get excited about!
Post comments on what you are doing to enable more women and girls to unleash their potential for themselves, their communities and our world,  whether with your company, government or NGO.