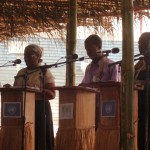 The first two days were focused on international issues; the third day, with support from the women of the world, was focused on Liberia's National Plan of Action. Today continues drawing the relationship among national, regional and international efforts to advance women's rights in all arenas. This morning we had exactly the powerful start needed to make that connection. We saw a production of Speak Truth to Power. Right after the performance, President Ellen Johnson Sirleaf and presented awards to representatives of the Liberian women's organizations that had made peace possible and now continue to press for gender equity in every sector of society. I was deeply moved by the gorgeous symmetry of global and national commitment to basic human rights celebrated together. The world is inspired by the terrifyingly dangerous, highly successfully heroism of the women of Liberia: and the women of Liberia were inspired by the human rights defenders from around the world. Think globally, act locally was in true demonstration today!
Speak Truth to Power seeks to promote a more just and peaceful world by galvanizing public support for international human rights through cultural, educational, and web-based programs. Through the combined power of arts and education, they aim not only to inspire, but also to empower individuals and communities to take up the defense of human rights.
It was co-founded by Kerry Kennedy, founder of the Robert F. Kennedy Memorial for Human Rights dedicated to advancing the human rights movement through providing innovative support to courageous human rights defenders around the world, and Nan Richardson, founder of Umbrage Editions that produces high-quality visual books, traveling exhibitions, and multimedia projects.
Sister Mary Laurene of the Catholic Justice and Peace Commission of Liberia introduced the local actors who performed the play "Speak Truth to Power: Voices from Beyond the Dark," which was written by playwright, author and human rights activist Ariel Dorfman, who among numerous prestigious awards won the Laurence Olivier Award for "Death and the Maiden". 
I was seated right next to one of the human rights defenders featured in the multi-faceted Speak Truth to Power campaign, Sam Kofi Woods, who now is Minister of Labor in Liberia. President Ellen Johnson Sirleaf showed her strong commitment to human rights by having many of her cabinet members present. Not just the Minister of Gender Affairs – who is absolutely wonderful – but also the ministers of Commerce, Finance, etc, women and men.
Having celebrated into the night yesterday the powerfully courageous Liberian women defenders of human rights, dignity, peace and justice, we could not have started the day better than to celebrate the bravery of 50 human rights defenders globally. Originally profiled in a book "Speak Truth to Power: Human Rights Defenders Who Are Changing Our World" written by Kerry Kennedy after she traveled around the world interviewing each of them. She was accompanied by Pulitzer Prize winning photo-journalist Eddie Adams to create this inspiring and beautiful book.
I had the privilege to work with Kerry, Nan, Ariel and many others in co-producing the 2000 global launch of Speak Truth to Power as a multi-faceted project including the publication of the book, an international traveling exhibition of the photographs, the distribution of a human rights education curriculum developed in association with Amnesty International, the play by Ariel Dorfman performed live at the John F. Kennedy Center for the Performing Arts in Washington, DC with Broadway director Greg Mosher and enacted by world-famous actors, aired nationally by the U.S. Public Broadcasting System after being filmed by the local PBS network and edited by Oscar award-winner Alex Gibney and now available in video. This extraordinary project now has been to all parts of the world.
I was reminiscing with Samuel Kofi Woods about how almost impossible it was then to get him a Visa to come to the US to participate, along with most of the human rights defenders we brought there for the launch. And how we set up an additional program for him to lead a panel discussion on human rights law at American University Law School while he was in DC: how amazing that he who was in harm's way for his positions on human rights now serves in Liberia's government. Today right after the play, he made a pledge to all the Liberians gathered at the Colloquium that he would organize training programs for all government officials to enforce human rights and especially to promote the rights of women and girls.