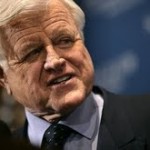 Dear friend and champion of every issue of importance in the 20th and start of the 21st century, you will be so missed by so many.  The world knows you as the unmatched "Lion of the US Senate": you are ONE in a lifetime and your loss is irreplaceable.  Those privileged to call you friend, know your passion and dedication to the great social justice issues of our time was mirrored by your intense passion for and utter loyalty to your friends and family. We are grieving and sharing our heartfelt condolences with your family who we know were more important to you than anything.
We were profoundly honored to be on vigil during the final hour Ted's casket was at the Kennedy Library before his family brought him to the church for his funeral service.  The next day one of our granddaughters called to say, "Granddad, I saw you on TV: how did you know him?" and made us feel that each of our six grandchildren and others of their generation must learn about the greatest senator in US history.  We hope the extensive coverage of his extraordinary leadership on every critical issue that affects all Americans and countless others globally motivates a new generation to follow his example of service and dedication to working tirelessly for justice.  The following is a small glimpse into how he personally touched us deeply.
Meeting Ted initially through the work of Jack and Bobby Kennedy
The Dunfey family had known the senator for more than 60 years since our brother William "Bud" (1925 -1991) founded the Young Democrats of New Hampshire.  Bud arranged for John F. Kennedy to speak in Dover, NH when working on his campaign for the 11th US congressional district of MA (1947).  At the last moment when Jack couldn't come, he sent his then very young brother Ted to speak in his place and thus a friendship began.  In the years since, in moments public and private, the connection between the two families was sustained.  When JFK ran for the US Senate (1953) our brother John "Jack", who was president of the Hampton Beach Chamber of Commerce, organized an event at the bandstand on the beach at which Teddy was sent again in his brother's stead and for which every member of the Dunfey family passed out flyers to attract a large audience.  A few days ago Jack reminisced that Teddy's speaking skills had greatly improved in those few years between events and he wowed the crowd.  During the 1960 presidential campaign after JFK announced his candidacy at a Dunfey hotel, The Carpenter in Manchester, NH, Bud was his campaign coordinator for Maine, New Hampshire and Vermont.
In 1968, Bud was presidential campaign coordinator in New England for Robert F. Kennedy, joined by other Dunfey brothers Robert "Bob", Jack, Walter (1932 – 1989) and Jerry.  Earlier in the mid-60s, Bobby called the Dunfey's Hampton office on a day when Jack, Bud, Bob, Walter and Jerry all were there.  He told them about his Olympic skier friend Tom Corcoran who wanted to develop a ski mountain resort.  In response, they put Tommy in touch with the owner of most of the land in Waterville Valley, NH, Ralph Bean, who had grown up with them in Lowell, MA.   Bud, Jack and Jerry were early Waterville Valley residents and Bobby attended the opening of the ski mountain resort, which thrives today as a family destination year-round.  Bob, who played a particularly active role in RFK's campaign, stood honor guard with ME Governor Ken Curtis at Bobby's funeral at St Patrick's Cathedral in NY; they pulled Jerry in to stand with them.  We stayed close with Ethel and her children since and more recently have started relationships with her grandchildren.
Dunfeys worked on these and other Kennedy campaigns, including Sarge Shriver's presidential primary (1976).  Supporters from the first generation were Richard "Dick (1930 – 1991) until he became a judge in 1965, ultimately Chief Justice of the NH Superior Court with David Souter serving on his bench before he went to the US Supreme Court.  Paul (1918 – 1991), critically wounded at Okinawa in World War II in and out of Naval Hospitals for much of his life, served in the Government Services Administration with support from Ted.  Leroy "Roy" (1917 –1990), the hospitality face of Omni/Dunfey Hotels International for years, hosted Kennedys on many occasions.  All brothers, their spouses and mother attended JFK's Inauguration but, as Sisters of Notre Dame de Namur, the sisters could not.  Later Eleanor chaired many Global Citizens Circles led by Kennedys; Mary (1922 – 1989) worked in National Historic Preservation protecting many sites with Ted; Catherine "Kay" (1920 – 1994) wrote "One with the Flame" that young women of the next Kennedy and Dunfey generation performed at all girls schools; and Eileen personified Kennedy's "No Child Left Behind" in her years as an extraordinary teacher.  Many of the next generation became supporters too.
Sharing family joys and sorrows through the decades
Andy Young gave the eulogy and Ted wrote "Your mother's legacy of love lives in so many of us who were privileged to call her our friend," for the funeral of Catherine Manning Dunfey (1894 –1982) who with Leroy Dunfey (1892 – 1952) were the source of "the birth of a nation."  She was mother of 12, Nanna to the 35 cousins of our children's generation and great-grandmother to an enormous tribe during her life, grown even larger now and including great-great-grandchildren.  Ted said less than a decade later at Walter's funeral, "[He] was proudest of all of his large family.  We'd laugh together over who would win the NH primary if only Kennedys and Dunfeys were allowed to vote.  And when it came to children, he liked to say that Dunfeys are size 12 but Kennedys are only size 9.  My mother didn't blink at that but she always got upset that the Dunfeys had four nuns!"  Since his death, so many people have shared their stories of how Ted always was there quietly at the critical moments: hospital bedsides and just before or after deaths.  We know his great generosity of spirit: even when he couldn't come to funerals he visited or communicated privately after the deaths of Jerry's siblings Mary, Roy, Walter, Dick, Paul, Bud, Kay, his son Jerry Jr. (1958 – 1978) and Jack's son Philip (1955 – 1999).  The five living siblings Jack, Bob, Eileen, Jerry and Eleanor, the children of those alive and gone, and the older grandchildren in our huge clan who have children (great-grandchild generation) have many of their own stories of Ted's many kindnesses during times of sorrow.
And we also shared together in more joyous times.  When Ted sailed to Nantucket, one stop for him and his entourage would be our back porch facing the ocean at Cisco Beach with Hummock Pond behind us. He, Jean and Steve Smith, Arthur and Alexandra Schlesinger, Pierre Salinger and whoever else was there that year would chow down on Jerry's homemade lobster stew.  Patrick through his teens would bring his surf board since the beach by our house was surfer heaven.  Later in the evening, we'd all go to Edmund and Doris' with the entire Reggie clan for dinner.  The Dunfey/Kennedy Nantucket connection had a history: the plane taking Jerry and others home from RFK's funeral made a stop there.  The Hyannis connection too: as Ted said in a eulogy, "The Dunfeys always ran a tight ship.  A few years ago, a Senate colleague called and said, 'Ted, I don't know what your political plans are.  But if you can get a room for me at Dunfeys Hotel in Hyannis on Memorial Day weekend, I'll endorse you for 1988.'"
Over the years, two generations of Kennedys, attended and moderated discussions of the Global Citizens Circle, founded and hosted by the Dunfeys.   Still called New England Circle then, a Circle held in Hyannis in 1979 featured Ted and Henry Cabot Lodge Sr. leading a dialogue about SALT II and attempts to curb nuclear proliferation.  All the New England governors and many other legislators participated.  Rose attended with her daughters Jean Smith, Eunice Shriver and Pat Lawford.  We have many pictures of the two "matriarchs" (although neither liked to use that descriptive) – Rose and Catherine – who held each other in the highest regard as so many members of their respective families had dedicated themselves to service: political, civic, cultural and religious.  But when anyone talked about the similarities between them, Catherine would always say that she should never be compared to Rose who had suffered so much sorrow in the loss of her children.  She was always grateful to have her 12children live through the years of her later life.  All 12 were pall bearers at her funeral, something that people in attendance said was the most amazing and touching scene to witness.  The Dunfey "patriarch" Leroy had died 30 years earlier when Jerry was just 16 years old and his older brothers already had been working with JFK for seven years.
Relationship with children, nieces, nephews, grands and in-laws
Teddy Jr. would stay with us in Waterville Valley to ski on "Bobby's Run" among other Black Diamond trails. Speaking at the funeral, he captured his father's very essence: how he stood by his side, supporting him with unwavering certainty to believe and experience that he could do anything.  Listening to Teddy tell that sled story, I thought about how it was just a decade later when he would casually put on and throw off his prosthetic before and after a full day of flat-out intense skiing and I realized what a sense of empowerment he'd developed from his dad's encouragement.  I particularly flashed on one evening after such a day of skiing when he and I stayed up to watch the Star Wars Trilogy (long before the other sequels were created) which was being shown in a late night marathon TV screening.  I am struck by how much his dad truly was a Jedi: then Teddy, his siblings and cousins who'd been nurtured by Ted, also fighters for everything good.
And then we fast forward another few decades and we're working with Matt Kennedy, Joe's son, on Barack Obama's NH campaign.  Supporters from the start, how proud we were the day Ted and his niece Caroline endorsed a presidential candidate who would indeed pass the torch to a new generation: their support conveying what no one else on earth could.  We were so moved to stand in the back of gymnasiums in NH with Matt almost 50 years after Dunfeys had organized such gatherings for his great uncle's presidential campaign.  Listening to Ted and Kiki's children Kiley and Teddy III and Kara and Michael's children Grace and Max talk about their grandfather at his funeral with profound love and beyond-their-years eloquence was a full life circle complete: their family tradition flourishing.  Hearing Rory, who we first met when she was a child playing in the backyard of Hickory Hill at one of Ethel's many gatherings and has become a wonderful mother herself, also was part of that breathtaking cycle of life.
While the Dunfeys were working on JFK's 1960 presidential campaign in New England, Judge Edmund Reggie was leading the campaign in Louisiana.  In 1956, they shared in promoting Kennedy as the Vice Presidential candidate for Adlai Stevenson rather than Estes Kefauver.  The relationship built on politics deepened through the shared Nantucket family gatherings, where we first met Vicki and her five siblings.  Our brother Jack who still has his house in Nantucket years after our ocean-front property was lost to erosion continues the tradition of regular get togethers with the Reggies.  Much has been said about Vicki's quiet rock-solid strength, brilliance, creativity and love: all true many times over and consistent with the values of her large boisterous family of wonderfully unique individuals.  In the same way Ted always tended to everyone, Vicki personally answered each of our communications after Ted was diagnosed.  We know she did that for countless others who were conveying their love and support, despite carrying the heaviest burden herself.  We will keep Vicki, Curran, Caroline and the entire extended Reggie family in our prayers.
Intersecting lives championing the rights of others and caring for each other deeply
I have a comparable political history with the Kennedy family pre-dating marriage into the Dunfey family.  As a student activist in the civil rights movement since Dr King's 1963 "I Have a Dream Speech", I was an ardent supporter of RFK's passionate work with Martin Luther King, Jr., Coretta Scott King, Cesar Chavez, Delores Huerta and others.  Full disclosure: as a peacenik, I was a Gene McCarthy supporter early in the 1968 presidential campaign before Bobby entered the race.  However, over the decades that followed I got to work with and bond with Ted, his sisters, sisters- and brothers-in law and most of their children through political and civic activism that grew into friendship.  I'd worked with Ted on the Equal Rights Amendment, Minimum Wage, celebrating as he recently signed the Lilly Ledbetter Fair Pay Restoration Act.  I hosted at my home many of his children, nieces and nephews as they started various non-profit endeavors or ran for elected office, as I also did many times for Ted, particularly during the 1980s when I served as New York Finance Chair and National Co-Chair for the euphemistically named Democratic Presidential Victory Fund.  Many times over those years, Ted would host after parties where we'd sing through the night.  I also sailed with them and stayed at Hyannis with others whose political convictions led to personal friendships.
Jerry and I, following parallel paths, met when RFK was being honored posthumously by the Africa America Institute at their first awards gala.  Our friends Jeri Asher, Andy Young and Frank Ferrari organized it so Ted accepted the award on his brother's behalf.  After Desmond Tutu gave the remarks about the impact of Bobby's 1966 speech during his South Africa trip, he also praised Ted as a champion of international efforts against apartheid.  Jeri had met Jerry at an event for Ted at the Dunfey Parker House rooftop, she knew me through our mutual friend Larry Tribe and she introduced us to each other at that AAI event.  These close friends who were part of our extended families soon danced at our wedding.  Ted's toast acknowledged that ours was a "family" wedding for him and Bobby's oldest daughter Kathleen said something similar.
Ted danced the Hora with my Jewish relatives and sang Irish ballads with Jerry's relatives, all of which he did with that great unabashed gusto that people spoke about so lovingly at his many tributes.  We were married in this extended family setting by Jerry's life-long friend Judge Dave Nelson (1933–1999), the first African American appointed to the Federal District Bench in Boston because Ted nominated him; and my cousin Ann Feldman, a civil rights lawyer turned judge who shares all the same progressive values.  Archbishop Tutu, who we lovingly call the Arch, performed the more private religious ceremony.
So many mutual friends from around the world had tried to get us together because they knew Jerry and I were destined to be together.  After we were married, we were surprised to learn how many times over the years we'd actually been at the same Kennedy family events – public ones like the opening of the Robert F. Kennedy Center for Justice and Human Rights, semi-private ones like family birthday parties for Rose and more intimate gatherings before or after such events.  Once we were together, Joan Kennedy conspired with me in planning Jerry's surprise 50th birthday party over 24 years ago and we think of her as she now mourns her first love and the father of their children.
Family-like friendships that blossom from shared values
Jeri Asher truly is an intimate member of the extended Dunfey and Kennedy families.  She and Ted forged a close alliance on legislative and policy issues about which they were both passionate.  She hosted countless political events, birthday parties and other special gatherings for him where Nick Littlefield and/or Carly Simon serenaded him and then he acted scenes from Shakespeare with humorous twists that had everyone on the floor in tears and laughter.  He was there every time Jeri's daughter Jennifer Posnik, who had Spina Bifida from birth, had one of hundreds of operations up until Jenny died just shy of her 30th birthday in 1998.  Jeri, like Ted, not only devoted herself to helping Jenny have every possible opportunity life could offer after doctors said she wouldn't make it past her first decade, but she also was there every time any Dunfey or Kennedy family member needed support.  As a highly-acclaimed health expert, she generously made connections with the perfect doctors for each medical crisis either family encountered.
In 1962, Jeri's father was the physician from Longmeadow, MA called to Cooley Dickenson Hospital in Northampton, MA near where Ted's plane crashed to advise on the surgery he would need for a badly broken back.  Ted had been in a terrible plane accident going to the MA Democratic state convention where he was to be nominated for his first run for the US Senate when he was 30 years old.  It was Jeri's father – Jon's Papa; Jackson, Justin and Jordan's great-grandfather – Norman Abrahams, who called MA General Hospital and authorized Teddy's medical evacuation by helicopter to Boston for the surgery.
Jeri began her own life-long friendship with Ted when she became a Smith College campus organizer to organize with Don Dowd college campuses throughout MA to get out the vote for his next run.  She later organized Ted's first fund-raiser in western MA at her girlfriend Debra Freedman's house.  Jeri still has a picture of Ted and her son Jon – now a father of three, then six years old – dressed identically in blue blazers and "twin" rep bow ties, with Teddy Jr. and Patrick goofing around in the background still in ski clothes playing football with Jon.  Their relationship became deeper in later years through many interactions on the health of their children.  Teddy Jr. and Jenny were hospitalized at the same time at Dana Farber when Teddy Jr. received breakthrough cancer treatment for his leg and Jenny had breakthrough back surgery, both of which became textbook cases.
Jeri brought to the attention of Greg Craig, then Ted's new foreign affairs advisor in his first month working for the senator, the critical need for Ted to go to South Africa.  She helped organize the trip and Ted invited Jerry to join his delegation.  When they returned, Jerry opened up the restaurant late that night at the Parker House and we all sat up with Ted talking into the wee hours of the morning.  Jeri and Ted also worked together on the landmark,  "Architectural Barriers Act", "The American's With Disabilities Act", CHIPS and other legislation that affected their families directly—and the most under-served of our citizens—generally.  When Jeri's daughter died, Jenny asked that her obituary begin with the fact that she organized the largest, "get out the vote," movement for the senator by any disabled person to get record numbers of disabled vets and others with physical disabilities throughout MA to come out to vote for the senator.  It was Jenny's proudest accomplishment.
As we say goodbye, we treasure all the inter-connections
When I arrived in Boston the evening of Ted's wake, my cell phone rang and showed that the call was coming from Coretta Scott King.  I assumed someone was calling from the King Center but when I answered it was Jerry.  We were amazed by the timing of the "crossed caller ID" as we'd each been thinking about Coretta and the King family since their lives were so intertwined with the Kennedys.  In further serendipity, we sat at the funeral with Martin Luther King III and Arndrea Waters King.  When Dr. King was assassinated, Coretta spent that summer in a NH cottage next to the Dunfey family.  Our friend Earl Graves, who then worked with Bobby, was concerned and asked for a safe environment.  She wrote her book "My Life with Martin Luther King Jr." while her young children played with young Dunfeys and a young Gary Hirshberg who later would found Stonyfield Yogurt. The family connections continued.  Jerry and I both served on the board of the Martin Luther King Jr. Center for Nonviolent Social Change.  Coretta stayed at different times with her children at our home in Nantucket and our condo in Key Biscayne for quiet family vacations.  I brought her to the Philippines, after a request Cory Aquino made to me at the time of her presidential inauguration.  Jerry attended Daddy King's funeral: we were honorary pallbearers at Coretta's public funeral and gave one of the readings at the smaller family funeral.  Yolanda then stayed with us for a few days as she needed some quiet time out of the public glare: a year later, we'd be at her funeral.
Two nights after Ted's funeral, Andy Young called us.  We reminisced on all that had transpired over these decades since we'd all been working together on social justice.  From the early 1960s through the present, we'd collaborated on human rights issues anywhere – from promoting peace and reconciliation in Northern Ireland, Southern Africa and Latin America to empowering women, minorities, farm workers and so many others in our nation and world.  Bud served as Public Delegate when Andy was the US Ambassador to the UN; Jack, Walter and Jerry accompanied him on delegations globally.  His daughter Andrea worked on Ted's staff with encouragement from us.  His wife Jean and I were members of the US delegation to Harare for a UNICEF conference on children and armed conflict.  On the phone Andy talked about his beloved Jean who, when she learned she had inoperable cancer, pursued aggressive treatment while, more important, did everything she wanted to do, like Ted did to the end.
Our gratitude is never ending
Now, as we head off to another one of our granddaughter's soccer games, we realize her generation, before them our nieces' and, even earlier, our daughters' played sports because Ted championed Title IX so girls had school athletic funding like boys.  With his leadership to pass this and other vital legislation that forever improved countless people's lives, he had the most profound impact on all of us and he never gave up.  In 1982 Ted sent a handwritten note, "Dear Jerry, Your letter on my decision about 1984 meant so much to me.  You have shared the challenging times and the winning times with all the Kennedy brothers.  For that and your continued friendship, I am deeply grateful.  There are nine innings to the game and I plan to play them all."
Dearest Teddy, you played them all so brilliantly well with such passionate determination and, then having planned beautifully these final months after a remarkable lifetime, you were indeed always a "True Compass" and you will forever be a guide for so many of us.  Thank you again and again.