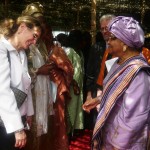 After saying goodbye to Liberia's President Ellen Johnson Sirleaf, who I've known since we worked together in the 1980s, I reflected. All of us who participated in this historic Colloquium reconnected with friends we'd known from our work over the decades on behalf of gender equity and a more just world. We made new relationships with wonderful advocates from the public, private and civil society sectors of many countries. We had intensely in-depth discussions about where we've been, where we now are and where we are determined to be with the status of women in our respective nations, regions and the world. We had innumerable poignant insights about opportunities and challenges we each face: often the same ones, sometimes quite unique to specific places. We exchanged information about successes built on best practices and hard lessons learned through devastating set-backs with the clear intention that we could improve the effectiveness of each other's efforts.
The Colloquium proceedings followed thematic areas of focus, which will continue to be analyzed and developed at meetings throughout the world. Some meetings already are planned and new initiatives will grow out of this gathering. You can learn more about the themes at the Colloquium . Some of the many organizations that will continue to pursue these efforts on a global scale include Realizing Rights, the Council of World Women Leaders, the Institute for Inclusive Security.  Others that support women's initiatives globally include the United Nations Fund for Women UNIFEM, the Global Fund for Women, , the Women's Funding Network, Women Moving Millions, and Women for Women International. For a more comprehensive listing of women's organizations – global, national and local – see the excellent resources Wellesley Centers for Women and University Wisconsin Women's Studies. The good news is that there is a plethora of activity, so these links are just the start: feel free to add your comments to this blog about other excellent sites to visit to learn more.
MY PERSONAL THOUGHTS AND HOPES
Of my many reflections following participation in this gathering, two particularly stand out for me. First, people throughout the world are engaged in amazingly exciting efforts to advance gender equity. But, I strongly believe we must develop and sustain mechanisms to keep these pockets of activity linked. For us truly to leverage and take to scale the most strategic benefits of the remarkable work being done in different places, we have to collaborate in creative ways that will keep the momentum moving forward in between these inspirational gatherings. The whole always is greater than the sum of the parts and we always have greater strength in coalition. I left the Colloquium determined to play a proactive role in being a bridge-builder and connector.
Second, while we evaluated, debated and came up with recommendations about incredibly substantive issues, for me one element of the Colloquium was the most important. We were there as a witness to, and affirmation of, the extraordinary courage, resilience and fortitude of our Liberian sisters – and brothers – who, in a post-conflict society, working against all odds are making awesome strides that would humble anyone. They not only pulled off hosting a grand international gathering in a nation that still has severe infrastructure limitations, they taught us by example how bringing women into senior leaderships in every aspect of developing their country has made them a model we all can learn from and emulate. To them, I simply bow in awe, respect and gratitude. And I pledge my continued solidarity.
EXPERIENCE THE POWER THROUGH WORDS & IMAGES
I encourage you to read – or, at least, look at the photographs – in the postings below to get a fuller flavor of the transformative experience in Monrovia. On my final day I accompanied Lynn Sherr and Megan Thompson as they made site visits and conducted interviews for a four-part series about Liberia they are producing for World Focus, a nightly international news program produced by the PBS networks WLIW and WNET in New York with the aim to provide in-depth global news to American viewers. I cannot tell you the details but I was deeply moved by each place we visited and each person with whom we spoke. Their pieces will be broadcast in April, so check out your local PBS stations and watch this fantastic series. Below is one picture I took of Lynn and Megan at work and one they took of me with some children at one of our sites. The rest you'll have to wait to see on World Focus!