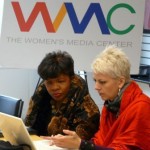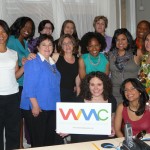 I was a speaker for the first class of the Women's Media Center (WMC) 2010 Progressive Women's Voices training, one of many WMC initiatives to advance its goal of Making Women Visible and Powerful in The Media.  I emphasized how much we not only must advocate for our own authority as women leaders but that we also have a responsibility to help promote other women to break down barriers that still exist for them to reach the top rungs of leadership.  In two weeks when I will be a coach for 30 women corporate executives from around the world at an IMD Strategic Leadership module, my message will be similar.  WMC had selected 10 women out of almost 200 applicants and provided over 50 hours of in-person training to these extraordinary women who already are enormously successful but, with WMC support, now will up their game even more.  Several of the women experienced significant immediate breakthroughs.  
Imani Perry, a Princeton University professor, published her first Huffington Post piece, which was picked up immediately by CNN's Anderson Cooper 360 blog: as a direct result, CNN International featured her discussing the impact of media on how children view race.  Shelby Knox, a prominent feminist organizer, avid blogger and tweeter, published her first paid piece on the news site AlterNet.  Mac McClelland, a human rights reporter at Mother Jones, used her video journalism skills when she was one of the first people on the ground reporting as oil made landfall on the shores of Louisiana: her coverage was  picked up by the POLITICO Playbook and Newsweek.  PBS's To The Contrary booked Jehan Harney for a panel discussion on the Muslim pray-ins happening in DC.
The WMC training program concluded with a half-day session at a major studio where the participants were grilled by on-air talent and received immediate feedback from television producers.  Our panel of four also included Annie Goodman, Fox News; Jenny Eliscu, Rolling Stone; and Deepa Fernandes, People's Production House.  We each shared our experiences about how we experience being a woman in a senior position, what challenges we face and how we handle those.
Please post your comments on how you deal with being or becoming a woman leader in your field or how, as a man, you support such women.   I especially welcome insights on or lessons learned about best practices from any organization in any sector where women and men are working towards achieving parity, benefiting from each other's strengths and augmenting each other's blind spots.
And read following one-paragraph bios on each of the 10 remarkable women who participated in WMC first 2010 Progressive Women's Voices training.
Aimee Allison is a Bay Area KPFA radio host/producer, activist and author, with special expertise in the fields of social justice, environmental issues, and militarism. As an Army veteran and conscientious objector, Allison has a unique perspective on war and peace. Her book, Army of None: Strategies to Counter Military Recruitment, End War, and Build a Better World was published in 2007. Allison's work combines deep understanding of local and national politics, and she has hosted broadcast segments everywhere from community radio to CNN. Aimee holds a BA in history and MA in education from Stanford University.
Jehan Harney is an award-winning Egyptian-American TV journalist and filmmaker. Her films have explored issues of immigrant communities, human trafficking, forced sterilization, interfaith issues and more. Currently, Harney is finishing a documentary for national broadcast on PBS called "Dream of America". The film reveals the plight of Iraqi refugees in the U.S. Her short documentary on American-Muslim women, The Colors of Veil, recently won the LinkTV/One Nation Many Voices award. Jehan has also worked in TV news, including at NBC and ABC affiliates, and most recently covering Iranian issues for WashingtonTV. She has earned the Writers Guild of America-East's John Merriman Award, among others. Harney has an MA in International Journalism & Public Affairs from American University in Washington, DC.
Shelby Knox is a prominent feminist organizer, nationally known as the subject of the Sundance award-winning film, The Education of Shelby Knox, a 2005 documentary chronicling her teenage activism for comprehensive sex education and gay rights in her Southern Baptist community. After the film's release, Shelby became a national advocate for comprehensive sex education, testifying before Congress and many other local and regional civic bodies about the failure of abstinence-only-until-marriage programs. A widely-sought after speaker and prominent media commentator on feminism and reproductive rights, Shelby lives in New York City, where she is working on a book about the next generation of feminist activism.
Sally Kohn is the Chief Agitation Officer of the Movement Vision Lab, an online exchange about grassroots movement building and transformative ideas for the future. Sally is a blogger with the Huffington Post and her writing regularly appears in AlterNet, Common Dreams and other news sources online and off. Her op-eds have been published by the Christian Science Monitor, the Chicago Sun Times and the Orange County Register, and Sally is a regular guest on national talk radio shows and the online video series GritTV. Sally is a frequent speaker at progressive conferences and gatherings on the topics of movement building and the need for big picture vision.
Sharon Lerner A leading national voice on family/workplace issues and moms' rights, Sharon Lerner is the author of The War on Moms: On Life in a Family-Unfriendly Nation, due out in May. She is a journalist who has covered a wide range of issues of concern to women for more than a decade. An award-winning journalist, Lerner has written for The New York Times, The New York Times Magazine, The Village Voice, The American Prospect, and other publications. Sharon has also received a National Headliner Award for her radio feature reporting and was a Senior Fellow at the New School. She has an undergraduate degree from Brown University and a Masters of Public Health degree from Columbia University. She lives in Brooklyn with her husband and two young sons.
Mac McClelland A rising star of progressive media, Mac is an expert on human rights, refugee populations and Burma. McClelland is on staff at Mother Jones as their human rights reporter, with other work published in The Nation, GQ The Daily Beast, The National Post, the Anderson Cooper 360 blog, Orion, AlterNet, as well as various literary journals and anthologies. Author of For Us Surrender Is Out of the Question: A Story from Burma's Never-Ending War, called "truly stunning" by the Fund for Investigative Journalism's Sandy Bergo, Mac has reported from locations across Asia and the US on wide-ranging subjects. She has been profiled by publications including The Advocate and is, most importantly and according to The American Prospect, "a total bad-ass."
Samhita Mukhopadhyay is the Executive Editor of Feministing, the highest-traffic site for progressive young women on the web. A veteran writer, whose work has been featured in New American Media, Wiretap, Colorlines, the Nation, The American Prospect, and elsewhere, Samhita's expertise is also widely sought as a speaker. In addition to being a prominent writer/blogger, Mukhopadhyay is also a leading digital strategist, with a background at the Center for Media Justice, providing media strategy for grass-roots organizing groups. Mukhopadhyay has a Bachelors degree in Sociology and Women's Studies from SUNY Albany and a Masters in Women's Studies from San Francisco State She is at work on her first book tackling what she terms the romantic industrial complex, addressing romance and dating from a feminist perspective.
Imani Perry is a Professor in the Center for African American Studies at Princeton University. She is an interdisciplinary scholar who studies race and African American culture using the tools provided by various disciplines including: law, literary and cultural studies, music, and the social sciences. She is the author of the forthcoming book More Terrible, More Beautiful, The Embrace and Transcendence of Racial Inequality in the U.S as well as 2004's Prophets of the Hood: Politics and Poetics in Hip Hop and has published numerous articles in the areas of law, cultural studies, and African American studies. Perry holds degrees from Yale, Harvard, and Georgetown universities.
Christine Trujillo A national leader on labor and employment issues, twenty year veteran teacher and labor activist Christine Trujillo is the President of New Mexico Federation of Labor-AFL-CIO, one of three women in the labor movement to hold such a high office. She is also President of the American Federation of Teachers, New Mexico; and a former elected official and Democratic Party leader. Winner of numerous awards, Trujillo's expertise also includes public bilingual education and health care issues. Christine is one of the country's most prominent Hispanic leaders.
Erica Williams Listed by Politico.com as one of Top 50 Politicos to Watch, Erica Williams is a dynamic young organizer and expert in issues of youth political participation and the increasingly racially & ethnically diverse electorate. In her work with the Center for American Progress, Williams has worked with the organization's youth-based arm, Campus Progress, as well as Progress 2050, a project that develops new ideas for an increasingly diverse America. Before joining CAP, Erica worked at the Leadership Conference on Civil Right to coordinate grassroots activity in nearly 45 states to advance effective civil and human rights legislation at the federal level. She is a past participant of the American University Women and Political Leadership Training Program, a 2008 O Magazine Women Rule Leadership winner, and a 2008 Aspen Institute IDEAS fellow.