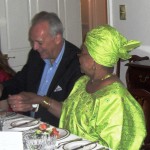 I looked around the table at the dinner Ambassador Lindiwe Mabuza, South Africa's High Commissioner to the UK, had hosted in honor of my husband and me on Mandela's birthday in tribute to our long history of support for South Africa's freedom. While I simply had invited friends who I knew in London, I saw that among the 11 present we hailed from India, Mexico, Nicaragua, Ghana, the UK, South Africa and the US; had family roots in Ireland, Germany, Russia and Poland; had done work in the Philippines, Uganda, Colombia, Cambodia, DRC and other places throughout the world where people had experienced profound trauma. Then the one guest Lindiwe had invited who I'd never met before, Tessa Uys, one of South Africa's most renowned pianists, told an amazing story involving a piano and a room called "In the Bosom of the Family" that touched each of each deeply about our personal histories and that of all those with whom we'd worked globally. Its depth had a universal chord capturing the essence of knowing where you've been, what's been lost and the work needed to create some restoration.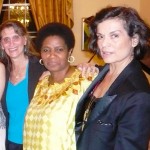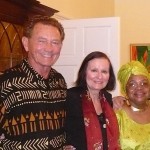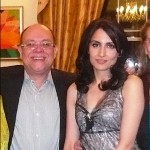 It's worth reading on to learn the story.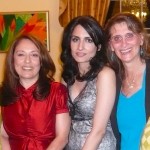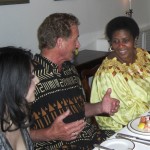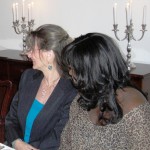 Tessa's mother left Germany in the 1930s recognizing early that horrors were beginning to happen. She brought with her to South Africa her Blüthner piano, which remained there for over 60 years. At her mother's death, Tessa who had been raised in the Dutch Reform Church, found papers about the piano's origin and the deeper she researched she discovered that all four of her grandparents on her mother's side were Jewish. She found at the Judisches Museum Berlin an installation "In the Bosom of the Family": a typical room in a well-to-do 1930s Jewish German's home where family members read classics like Schiller and Goethe. The room had almost everything in it for historic accuracy but the space where the piano would typically be was empty so Tessa donated her mother's piano.
Before the piano left South Africa, Tessa gave one final concert on it at which she ended with South Africa's National Anthem Nkosi Sikelel'i Afrika and said "the piano needed to remember where it had been." She opened her first performance at the museum with the same song and words. I, as someone born just after the Holocaust with many relatives of my parents' generation bearing tattoos on their arms and many more gone forever, told her that the return of the piano meant far more than how it filled that particular room. In its remembrance of where it had been it also carried having been originally ripped away from the bosom of the family. For people who have lost everything, even a tiny restoration can represent something so much larger and in the symbolism be the starting point for some healing, as we experienced through South Africa's Truth and Reconciliation Commission. In a world where so many have lost so much, I have sought to support such efforts wherever they happen. "Never again" means for everyone on earth.
Please share stories about your work on restoration – whether from Africa, Asia, Europe, Latin America, the US or anywhere else – as we all must learn from each other to continue this vital work.