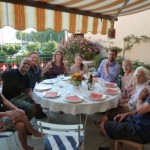 I spent my first Fourth of July as an expat living in Switzerland and now I celebrated August 1 the National Holiday of my new country. As I'm at the end of my first year working as Executive-in-Residence at IMD in Lausanne and have become more immersed in my community of Lutry, I am reflecting on the many ways my personal and professional life have been enriched. While I continue to work on how best to engage internal and external stakeholders, my article "How Deeply Engaging Stakeholders Changes Everything" published by Forbes.com, ReWiring Business and Tomorrow's Challenges was recently picked up by The Jakarta Post and Mexico's Inversionista.
On la fête nationale, after having supper with our wonderful neighbors, the new mayor of Lutry and his family, we followed the parade through our village led by children, so many of whom with their parents have become our friends, with their illuminated paper lanterns to the bonfire on Lake Geneva followed by fireworks. As we stood surrounded by new friends I knew that our level of engagement in our community is deepening every day. For this I am grateful. 
At the same time that I nurture my relationships here and throughout the world, I continue to explore creating a stronger network of connections on the Internet.  So, I have added Google+ to the presence I already have on LinkedIn, Twitter and my blog.   I would love to hear from you about what you are up to these days so please post comments and feel free to include links to your work or to whatever else you would like to draw people's attention.