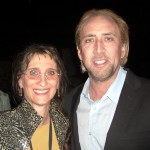 As a member of the Executive Director's Leadership Council for Amnesty International USA (AIUSA), what thrilled me the most about the Annual General Meeting (AGM) was the motivation, focus and determination of the multitude of young human rights activists.  OK, having members of Amnesty's International Secretariat, Country Directors, Board Members and Nicolas Cage sing Happy Birthday to me was pretty cool too!  But, seriously, the myriad times I hear people bemoan, "Where are Gen X, Gen Y and the Millennials?"  I confidently say, "They were out in extraordinary numbers organizing brilliantly, building on the tools Amnesty has developed over its 50 year history and bringing an entirely new fresh twist to it with their energy, insight and technological know-how."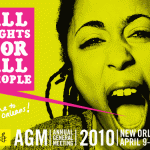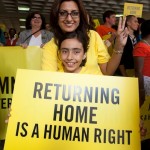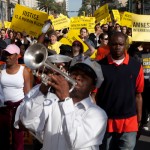 While Amnesty continues to focus on human rights defenders globally, they also have turned their eye more sharply on violations in the US.  One of their primary campaigns is to address the sharp increase of maternal health issues, particularly the rising number of poor women – largely those of color – who die unnecessarily at childbirth.  They also have an initiative to draw attention to the injustices in New Orleans and throughout the Gulf Coast five years after Hurricanes Katrina and Rita.  And, while this work is promoted by people of all ages, I was particularly struck by the palpable enthusiasm and capacity of the youth organizers.
A younger generation is pioneering geospatial technologies like satellite imagery for human rights monitoring and conflict prevention.  Listening to reports from their Science for Human Rights team I marveled at what they are doing, which is truly brilliant.  I already knew about this in phenomenon in multiple contexts, as I have the opportunity to work with many younger activists.  Most recently I've been blown away by the extraordinary achievements of the Fellows at Ghetto Film School , which is a particulary wonderful one of myriad youth empowerment initiatives run by and/or for high school age students.  It's their idealism, vision and grit that gives me hope for our future.  All rights for all people, the theme of Amnesty's annual meeting, is the clarion call of their generation and I am deeply moved by that.