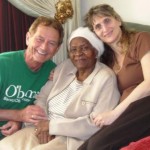 With deepest feelings of love for Mama Albertina Sisulu, we share with the Sisulu family members, the South African nation and freedom loving people throughout the world in the sorrow of her death at age 92 and the joy of knowing the magnificence of who she was. We can envision her joining her husband Tata Walter Sisulu, as being side by side is who they are in life and death. South Africa was blessed to have such fearless yet humble leaders who always served their nation, community and family. We knew and loved them for a very long time: we will cherish and honor their memory.  Mama served on our Global Citizens Circle International Advisory Board since its inception. Shortly after Tata's release from prison on their first joint visit to the US, we presented the two of them with the Global Citizens Award in 1991. Members of our family have visited them in South Africa and members of their family have visited and stayed with us in the US.  Three generations of their family, headed by Tata and Mama, hosted our 68-member GCC delegation visit to South Africa in 1998.  Four generations of their family hosted us at her home the last time we visited Mama Albertina.  
Leaders of the ANC, closest advisors to Nelson Mandela as Walter recruited Madiba to South Africa's freedom struggle, Parliament members of the post-apartheid nation, these two giants will be missed by generations who grew under their guidance. As Mandela wrote in the forward to the book, Walter and Albertina Sisulu: In Our Lifetime, "Their stories have become one in this history of our struggle…their marriage in the service of the struggle…Albertina is one of those women who suffered immensely and who struggled heroically without ever flinching."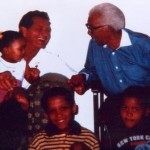 Please share your tributes to this great leader of our lifetime as comments to this post.