I'd worked with diplomats and women's rights activists from several nations to promote the passage in 2000 of 1325, a UN Security Council Resolution that mandates the protection, participation and promotion of women and their involvement in all aspects of peace processes.  Last week, during the opening of 64th UN General Assembly, I attended "Peace and Security through Women's Leadership: Acting on 1325 and Climate Change" chaired by Presidents Ellen Johnson Sirleaf of Liberia and Tarja Halonen of Finland.  They once again declared a call to action for implementation of 1325 before its 10th anniversary next year.  They also focused on the incorporation of a gender perspective to be included in the negotiations for a new agreement on climate change.  This meeting was a follow up from the International Colloquium on Women's Empowerment, Leadership Development, Peace and Security these two heads of state hosted in Monrovia, Liberia in March.  I was there and participated in several preparatory and follow-up sessions for these gatherings with leaders of all sectors from many nations.  As one of countless others who have worked over decades on behalf of gender equity and a more just world, I strongly believe we must develop and sustain mechanisms to keep the pockets of activity promoting these initiatives linked for the exchange of successful strategy that comes through collaboration.  The Angie Brooks International Centre, based in Liberia, and Realizing Rights, based in the US, are two of many organizations working to coordinate global efforts.  In 1999, as part of our earlier efforts I co-produced with UNIFEM the first ever UN Inter-Agency Global Teleconference,  "A World Free from Violence Against Women" interactively connecting the UN General Assembly with myriad sites globally utilizing live multi-directional video, satellite and internet broadcasting.   I left last week's UN meeting more determined than ever to continue playing a proactive role as a bridge-builder and connector.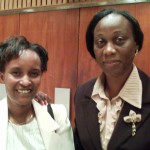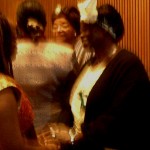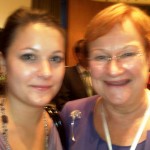 This panel at the 64th UNGA also included President Paul Kagame of Rwanda, Nobel Peace Laureate Wangari Maathai of Kenya and US Ambassador-at-large for Global Women's Issues Melanne Verveer moderated by former President of Ireland Mary Robinson.  Among the other women government leaders participating were Lithuania President Dalia Grybauskaitė, World Health Organization Director-General Dr Margaret Chan, European Union Commissioner Benita Ferrrero-Waldner, Bangladesh's Minister of Foreign Affairs Dr. Dipu Moni and Kenya's Minister of Health Beth Wambui Mugo.  Among the men were Canada's Minister of Foreign Affairs Peter Kent who chairs the Friends of 1325, Norway's Minister of Development Erik Solheim and Switzerland's Minister of Foreign Affairs Winston Peters.  Among the representatives of the Non-Governmental Organization Working Group on Women, Peace and Security (NGOWG) who spoke were Jeanne Nzuzi Nsamba of the Democratic Republic of Congo and Ursula Rakova of Papua New Guinea.  Everyone emphasized how few countries had made any advances on 1325's implementation and made urgent pleas for the nations of the world to follow those countries that have created and started to put into force National Action Plans.  Everyone acknowledged the need for more accountability.  Many advocated for more of the successful cross-learning processes which are being advanced through partnerships (e.g.: one among Ireland, Timor-Leste and Liberia).  For us truly to leverage and take to scale the most strategic benefits of the remarkable work being done in different places, we have to collaborate in creative ways that will keep the momentum moving forward in between these sobering yet  inspirational gatherings.
See my March 2009 Archives for posts with more from the Colloquium and its Monrovia Declaration, a passionate call to action for substantial implementation of 1325 by its 10th anniversary.  Post comments on what actions you are involved with to promote gender equity, whether with your company, government or NGO.  And share how you've been successful or what challenges you've faced in getting each of these sectors to release funds for this, whether as philanthropic humanitarian efforts or as core to their sustainable development goals.