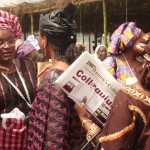 Carol Jenkins, President of the Women's Media Center, is the MC for this International Colloquium on Women's Empowerment, Leadership, Development, Peace and Security being held in Samuel K. Doe Stadium in Monrovia, Liberia co-hosted by Liberia's President Ellen Johnson Sirleaf and Finland's President Tarja Halonen. This is what I texted Carol first thing this morning, "I'm sitting at stage left end of front row reveling in seeing you on the podium as the MC!" Lynn Sherr and her colleague Meagan Townsend are shooting a four-part series on the conference for World Focus, a new, nightly international news program produced by WLIW and WNET in New York with the aim to provide in-depth global news to American viewers. Their pieces will air in April so check out your local PBS stations to watch that. When Lynn, Meagan and I had dinner tonight we talked about how great it is that there are so many women from around the African continent.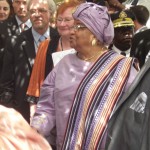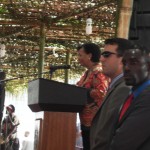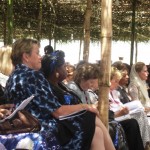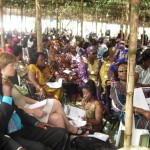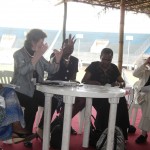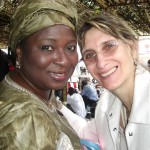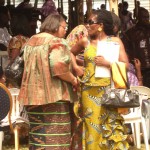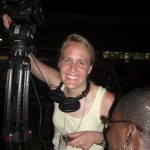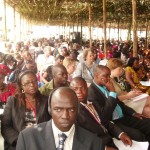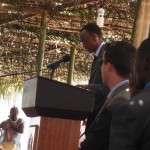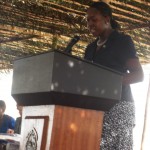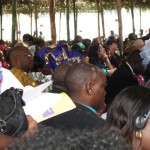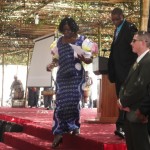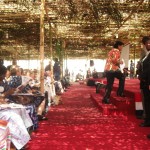 AllAfrica.com, founded by Tami Hultman and Reed Kramer, is covering the conference and Women's eNews, founded by Rita Henley Jensen, is as well  These two stories will give you a sense of what we are discussing in sessions from morning through evening: http://allafrica.com/stories/200903021783.html www.womensnet.org.za/event/women-gather-international-colloquium-liberia-advance-womens-leadership-worldwide.
The pictures above include one WMC President Carol Jenkins took of me with Ndeye Fatou Toure, MP, a member of Senegal National Assembly. The others are of Carol  presiding from the stage; the front row filled with heads of state and other senior government ministers from around the world, the two co-hosting presidents shaking hands along the front row, former President of Ireland, Mary Robinson, preparing one of the panels for a presentation on the themes being explored, Megan Thompson, producer for World Focus, with her camera. I believe I uploaded these pictures properly but I can't really tell.  And when I tried to include titles and descriptions with the photos, I completely lost the formatting so I removed the words and you'll just have to figure out who's who in each: oh the joys of being a tech neophyte… Nonetheless, happy to be learning and thrilled to capture some images of an amazing day!